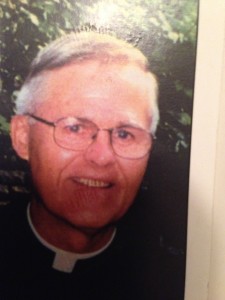 Dear Fr. Gannon,
In the gentle quiet of our Church chapel you felt most at home.  With deep love, reverence and gentleness, you celebrated Holy Mass, and gave to us the Greatest Gift of All, Jesus!
In your profound humility, you always pointed to Jesus who shines forth in you like a beacon in the night to light the way for all of us…….to light the way for me.
You knew that I suffered from intense anxiety and you told me that at the sign of peace each morning, you would say a special prayer that the Lord Jesus would fill me with His love and Peace….and you did.  You looked at me with the love of Jesus and that love carried me through the day.  You emptied yourself, so that Jesus could fill you, and be given to all those who needed you.
You watched Jenn, Kris and John grow up, celebrate their weddings, work along side with them at Moore Catholic, and best of all baptize my precious granddaughter, Ella Lucy.
The Sunday before you fell ill, Kris called me and told me that she had a dream about you.  She said "Mom, I dreamt that Fr. Gannon was walking down the hall at Moore and he said, "Kris, I came back to give you a hug because I knew that you needed one", and then he hugged me.  Krissy asked me if you were ok.  Oh Fr. Gannon, how deeply God used you and continues to use you as His holy priest, carrying His Son Jesus to us.
I have always been quiet and a bit reserved, but on that same Sunday, I touched your cheek and told you how much I love you.
My life has been so deeply enriched by you and your holy priesthood.  You are written on my heart always.
I love you Fr. Gannon, I pray for your healing at every moment of everyday, but especially at 7 AM Mass.
Colleen Comito
Our Lady Queen of Peace Church
Post Script:
This letter to you was never read…It was written in October 2007, and you were on a ventilator in SIUH, ICU. It was so difficult to see you like that…but I needed to see you, pray with you,  and let you know that myself, and my family, carried you in our hearts.
Months past and you were transferred to Kessler Institute in New Jersey.
It was Advent now….early December, and every Saturday my beloved husband John would drive me to Kessler to visit.  On one occasion, as I held your hand and prayed with you, I felt the clasp of your hand tighten around mine.  What joy filled my heart!
The months of January and February were so difficult for you….so many transfers to hospitals for infections and insertion of feeding tubes….
Again, I would visit…praying, hoping, wanting a miracle so badly.
And you, with such intensity, would stare up at the ceiling with eyes searching…waiting, wandering.
A different kind of healing was awaiting you Fr. Gannon…the ultimate healing, and with that prospect drawing closer now,  you were transferred once again…but this time you came home…to the Staten Island that you loved so very much.
It is 17 March 2008…St Patrick's Day!  I leave work early and board the bus to the residence.  I must see you on this joyous day!  I found no other visitors in your room, yet the loud speaker was rattling off a number of prize winners for the St. Patrick's Day raffle and…you were first winner!  A beautiful Easter wreath was going to be delivered to you, to be hung on this great feast of our faith.
I took your hand, refusing to cry…and leaned in close to your ear.
St. Patrick's Day is never complete without singing, as we Irish love to do…
And so, there I was  in full voice singing, "When Irish Eyes Are Smiling" to you…
I know in my mind that you really did not smile…but something in your eyes…did!
In such a short span of time, we were in Holy Week, 2008, and it was Holy Thursday.
Determined to visit with you before the Mass of the Lord's Supper, I boarded the bus once again.  So sure that the priests would be there, my hope was to touch your hand and say a quick prayer and leave.
I was devastated that you were completely alone!  I reached into my handbag and removed my copy of The Magnificat, and opened to the prayers for renewing one's Priestly Commitment and Litany of Thanksgiving.  Praying to the Holy Spirit, I humbly asked if I could be your voice.  And we prayed these prayers, I speaking the responses for you.
All during this prayer time, your eyes were fixed upon the ceiling, except this time they were no longer searching…Your look was one of peace, contentment and surrender…you knew the pearl of great price was indeed soon to be yours…
I read the entire Liturgy to you, through the sobs and the tears,…knowing that I was granted a privilege that I would cherish into eternity.
I kissed you goodbye, and arrived at Church for the Mass…
You stayed with us long enough to have the Easter Wreath hung on the door of your room…and
Know deep in your heart that The Lord Jesus was truly Risen!
Our Lord came to take you, His Beloved priest, to Himself and Mother Mary ,on the 26th of March 2008.
My own earthly father died 10 days later…
And so my beloved friend, your picture sits on my hutch in the kitchen, looking out at our family…praying for us as we do for you every day of our lives!
I cherish the memories that we were graced with….
And,
Until we meet again…
May God continue to hold you in the palm of His hands.
Ar  dheis  De' go raibh a anam
Everything is Grace,
Colleen